An ongoing list of Arabic fantasy and science fiction, including some of my reviews…
I recommend anything by Ahmed Salah Al Mahdi, a bright new talent in the Arab World. His books provide great suspense, enchanting world building, satisfying storylines, and compelling characters.See here for his website, and here for an interview with him.
ملاذ : مدينة البعث by Ahmed Salah Al Mahdi
My review of Malaz, a futuristic fantasy novel. The prequel is coming out soon!
In this book, the plot was unpredictable in the beginning. It surprised me more than once! Eventually it was clear where the story was going, but the beginning set up space for multiple possible directions. In a sequel, it would be fun to see another possible direction explored (for example, the protagonist's personal relationships, or the politics of various groups of people within Malaz or outside of it, or a journey through different parts of this world). The protagonist character learns, grows, and succeeds. In a sequel, it would be fun to see this character develop even more, as well as the character Jihad. I enjoyed the imaginary, futuristic Egypt. In a sequel, I would like to read even more about the landscape.
At the end of this book, I want more! I hope to see a sequel some day! However, I would highly recommend this book to anyone interested in an imaginative, fun story. It includes adventure, revenge, coming-of-age, and a hint of romance!
Rabee Jaber of Lebanon has a book available only in Arabic, كنتُ أميرً / I Used to Be a Prince, inspired largely by the tale The Frog Prince.
My Review: I liked the first and last chapters. The rest was bizarre and/or rambling. Jaber is a talented writer, but I prefer a more focused plot and more developed characters. That said, this book is remarkable for its use of a fairytale / folktale for part of its inspiration. Based on the tale The Frog Prince, the first and last chapters form a sort of frame story. It has nice parallels to two other famous pieces literature: 1) The Thousand and One Nights / ألف ليلة وليلة in that the prince is like the king, Shahrayar (they have almost the same fear), and 2) Beauty and the Beast in that the prince receives the same curse / عقابة. Finally, the ending has a surprise twist for readers familiar with The Frog Prince. Altogether, the first and last chapter provide a pleasantly refreshing Arabic contribution to folklore-inspired fantasy.
Algerian Amar Boukhroufa, pen name Djamel Jiji, has a novel published in French. It's translated from Arabic (which is unpublished thus far). The author gave me a copy of the Arabic, and I look forward to reading it some day!
Sonia Nimr's prize-winning young adult novel رحلات عجيبة في بلاد غريبة / Wonder Travels in Mysterious Lands is on my to-read shelf, as well as her طائر الرعد / Thunderbird. See here for Marcia Lynx Qualey's interview with the author. Qualey's recommendation of طائر الرعد / Thunderbird in the third Bulaq podcast won me over! Both books are for sale at YallaArt.
There's an exciting new generation of Egyptian fantasy writers. The following are on my to-read shelf: Muna Salama's قزم مينورا and كيغار, Duha Salah's رسول القمر, Asma Qadri's ديتون, Hassanein Mutaz's صانع الأحلام, and Muhammad al-Dawakhli's من حكايات الغول الأحمر الأخير
Future Files series by Egyptian Nabil Farouk – I would recommend his book "Tamima" to young adult readers
إكسير الحياة / The Elixir of Life by Moroccan Mohammed Aziz El-Habbani
الطوفان الأزرق / The Blue Deluge and other books by Moroccan Ahmed Abd El-Salam El-Baqqali – He writes for young adults, and his writing has been compared to Jules Verne and Ralph Ellison.
مجرد حلم / Just a Dream by Moroccan Abd El-Rahim Buhayr – treats social and political issues
السيد من حقل السبانخ / The Guy from the Spinach Field – futuristic novel about state politics, freedom, and illusions of freedom
اجوان trilogy by Noura Noman – see this discussion and interview
For a combination of Arabic culture and Sci Fi fandom, see the work of Sophia Al-Maria, who coined the term 'Gulf Futurism'. I have a brief review of her book, The Girl Who Fell to Earth.
Here are a couple "supernatural" story collections… The Square Moon: Supernatural Tales (Arabic Translation Award and The Seventh Heaven: Supernatural Tales
Throne of the Crescent Moon – not written in Arabic, but may be of interest to readers (it was to me!)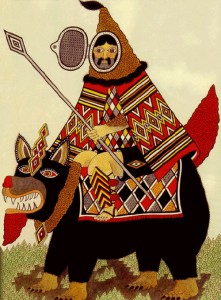 art: 'Warrior' by Matt Leines
Historical/Classical Selections:
A True Story: Parallel English and Greek by Lucien de Samosate, the Syrian, who was born in the 2nd century when eastern Turkey was part of Syria, and whose tale A True Story concerned a voyage to the Moon: he was therefore one of the early proto-SF authors.
The story "Jullanar" in 1001 Nights (which tells a mermaid tale – one of my personal favorites).
The Time Travels of the Man Who Sold Pickles and Sweets ( رحلات الطرشجي الحلوجي) by Egyptian Khairy Shalaby, translated to English by Michael Cooperson
Websites and Discussions: