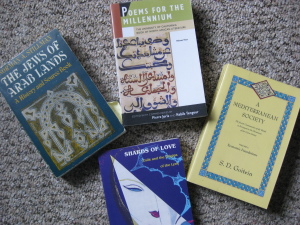 Here are some sources that I can recommend that relate to Jews in the Arab World:
Medieval Middle East
Norman Stillman's source book is excellent, especially for those seeking an overview of the earliest records regarding Jews and the spread of Arabic culture (from the 7th to 19th century). It gives access to primary sources in English translation, and is very balanced in its representation of societies.
Shlomo Dov Goitein's work is magnificent in adding to historical scholarship on the Mediterranean. His multi-volume A Mediterranean Society is the place to go for details, but this collection of letters is wonderful, I think, for a sense of the daily life of Jewish merchant families in the medieval Middle East region.
Medieval Iberian Peninsula
Maria Rosa Menocal was an outstanding figure in medievalist academic circles because she forged her own path. Her training in graduate school largely excluded Arabic sources and perspectives from medieval historical studies. She sought to revise her field, and to open its horizons toward inclusiveness and broad information. I heard her speak eloquently on her subject. Some find her work too flowery, or too idealistic. But if you're looking for someone who writes passionately about the shared culture of Jews, Muslims, and Christians who lived in the area that has since become Spain and Portugal, then Ornament of the World is for you.
20th Century Middle East & North Africa
Mark Wagner writes about Jews in Yemen in the early twentieth century. Like Joseph in Beauty is about sung poetry. I have also written about Jewish contributions to sung poetry in Moroccan culture in my dissertation available for download here. For more on Jews in Moroccan history, see Two Thousand Years of Jewish Life in Morocco by Haim Zafrani. (And if you visit Morocco, you may want to see the Jewish Museum in Casablanca. As far as I know, it is the only Jewish museum in the Arab World!)
For an introduction to Judeo-Arabic literature, focusing on North Africa, see Yosef Tobi, "The Flowering of Judeo-Arabic Literature in North Africa, 1850-1950" in Sephardi and Middle Eastern Jewries, ed. Harvey Goldberg (Bloomington: Indiana University Press, 1996): 213-225.
Contemporary Syria
If you like music, there is also a recent project to present mystical chants from Jewish, Christian, and Muslim communities in Aleppo, Syria. So far, Jason Hamacher has released one album called Nawa: Ancient Sufi Invocations & Forgotten Songs from Aleppo. I do not see a lot of details regarding his sources, but I'm watching for more. There is also an informative book by Shelemay on Syrian Jewish music and community.
20th Century Egypt
Lucette Lagnado writes the story of her family, focusing on her father and his life in Cairo, in The Man in the White Sharkskin Suit. (And for the record, I think the Arabic translation is excellent!)
Medieval, Modern, and Contemporary Western Mediterranean and North Africa
This collection (Poems for the Millenium vol. 4) of poetry and excerpts of fiction includes Jewish contributions to Arabic culture throughout history.
I have more sources on my to-read list that I might add later. Feel free to write to me with more recommendations! I haven't included any films here–yet. Do you have any favorites?
Note Regarding Title of this Post:

Judaism is just one of many cultural facets in the Arab World. I selected this group because political events have contributed to relatively high interest in this topic, but I do not mean to belittle the presence and significance of other minorities (such as Christians, Druze, Bahai, and other spiritual communities), as well as diversity more broadly defined that has come to shape the Arab World (for example, languages such as Aramaic, Greek, French, Italian, Persian, Syriac, and Turkish, and connections to many regions, such as South Asia, Sub-Saharan Africa, and Europe).