This post celebrates and complements our first group read of 2018 in the Middle East North Africa Lit group on Goodreads.com: الباب المفتوح / The Open Door by Latifa al-Zayyat! This is one of the most enjoyable feminist classics in all of Arabic literature, as far as I'm concerned. As a historical novel, it transports us to a time when Cairo was part of the British empire, and Egyptians were ready for a change! The protagonist, a young woman, comes of age in this society. We accompany her through all her discoveries – her newfound nationalism and political consciousness, her developing sexuality and womanhood / feminist consciousness, and her search for a path all her own.
AUC Press re-issued the English translation of The Open Door by Marilyn Booth in 2017. See here for a generous free excerpt and more information.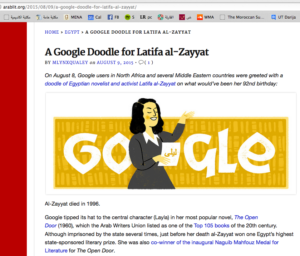 Here is a bilingual site dedicated to Latifa al-Zayyat's work.
See our moderator Marcia Lynx Qualey's article here on the 2015 Google Doodle for Latifa al-Zayyat.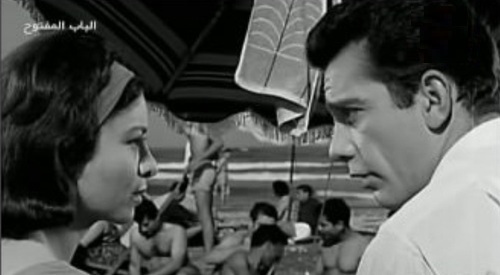 'The Open Door' is also a classic film from the sixties generation, based on the eponymous feminist novel by Latifa Zayyat. If you want a black-and-white cinematic experience, from the days of the silver screen, that envisions independence for Egypt and for individuals, then this is your movie!
In this recent interview, a professor at Brown University discusses teaching The Open Door in her class, Women's Writing in the Arab World.
Finally, if you want to continue reading more by Latifa Zayyat, her short story "The Narrow Path" is available in English translation by Salwa Jabsheh and Christopher Tingley on pages 790-800 of Modern Arabic Fiction: An Anthology (2008), edited by Salma Khadra Jayyusi.