I have read a lot about the glorious accomplishments of "the Arabs" or "the Muslims" in the distant past. Instead of focusing on some mythic golden age, this site includes any material culture that I find beautiful and noteworthy. So while some examples are historical, some are contemporary.
For some incredibly beautiful historic art and architecture photos and information on patterns, see here.

Photo by Radwa El Barouni, carving in Fes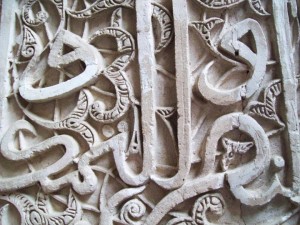 Pottery
One of my favorite pieces of art is a blue and white lamp from the sixteenth century. For some contemporary ceramics that I think are well worth checking out, see the work of Myriam Mourabit (Rabat, Morocco).
Woodwork
One of the most distinctive kinds of woodwork in the Arab World is mashrabiyya, latticed screens traditionally fitted together without any adhesive or hardware. Historically, they developed as a strategy for comfort and privacy so that urban families could enjoy fresh air from the outdoors without exposing themselves to public scrutiny. For contemporary woodwork, I can recommend Nadim (Cairo, Egypt).
(Photo by Ruth B.)
Painting / Drawing
One of the most valued arts throughout the Islamic world is calligraphy. See here for the highlights from a contemporary calligraphy exhibition in Malaysia. This site has featured the work of Moataz Nasr of Cairo here.
Textiles
Preview: khyamiyya appliqué (Egypt), Tally Art (southern Egypt), embroidery in Palestine and Jordan…
Jewelry
Top-of-the-line Azza Fahmy jewelry (Egypt)
More kinds of material culture to follow…
Photo by Radwa El Barouni