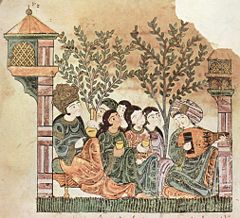 Image of Bayad playing his oud
 Music
Some of my favorite contemporary Moroccan artists:
See here for a concert of psalms sung in Arabic, performed by Lebanese Catholic nun Sister Marie Keyrouz.
---
 Poetry and Oral Compositions
The oldest extant example of Arabic literature is poetry, composed and performed orally. Here is a 9th century poem in English translation.
See here for James Montgomery's translations of "Horse, Hawk, and and Cheetah: Three Arabic Hunting Poems by Abu Nuwas" (from the early 9th c.)
Check out this post for spoken word of the present day.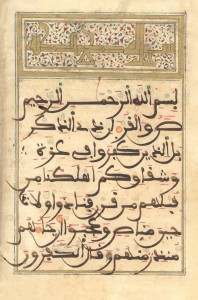 The most influential example of Arabic literature is the Qur'an, the sacred text of Islam, and it too was recited orally. German scholar Angelika Neuwirth has written of the Qur'an as a "late antique text" that emphasizes knowledge. See here for more on the implications of her work.
Note: Qur'an Manuscript photo from l-Jaami' l-Kbiir of Meknes, Morocco.
---
 Public Culture
In addition to poetry, aphorisms, and tales, oral culture can also include rumors that mold public discourses.
Broader than oral culture, public culture can include almost any art. Here are more resources on public culture in specific areas:
(more to be added later).